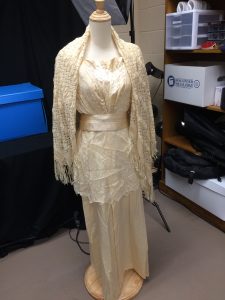 A fibre decision has been made. And the choice is…
There were many test swatches done and fibres tested until there were three top choices. And then, after some further testing and planning, the choice has been narrowed to two fibres:
100% silk for the wedding dress component pieces
wool / silk blend for the other components for the shawl.
The shiny satin portions of the dress will be knit using 100% silk. The lace over the bodice and composing the partial over-skirt will be done with the 100% silk. The plan is to use filet crochet to duplicate the pattern of the flowers in the lacework. The next step for this is to chart the flowers using photos and graph paper.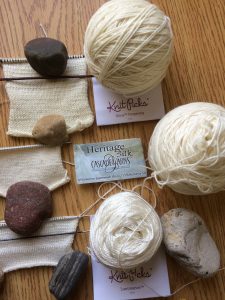 The shawl will be a 'swatch sampler', consisting of knitted or crocheted squares – or any needlework technique that will lend itself to the fingering weight wool. This 'sampler' shawl will be a great opportunity for beginner stitchers to try their hand at a vintage pattern. Kits will be available in the near future that will include yarn and pattern and instructions.