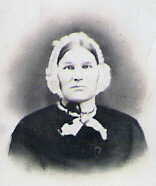 I have always loved needlework and stitching. My mother taught me to knit, embroider and sew when I was a child. I enjoyed my needlework hobbies over the years, creating various stitched items along the way.
While visiting the Huron County Museum's archives looking for vintage needlework patterns – I was looking for a pattern for the head-covering my 2nd great grandmother was wearing in the photo to the left – I happened to get the chance to see the museum's database of textile images.
And I was inspired. Based upon what I saw of the wonderful textile collection, an article idea popped into my head: Early 19th Century household textile items in the collection of the Huron County Museum & Historic Gaol. I pitched the idea and eventually the article was published in PieceWork in 2016.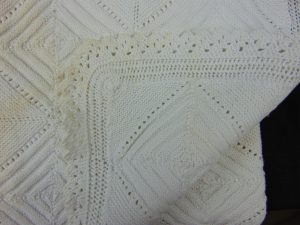 It was one particular item featured in that article that truly sparked my return to stitching and served as my main source of inspiration: the counterpane crib blanket stitched in the early 1800s. The simplicity of the pattern is its perfect beauty and it drew me in. I recreated the pattern to accompany the article and stitched a pincushion as an example of how the pattern can be used in a different way. My knitting teacher, Irene Kellins, owner of Stitches With a Twist in Blyth, recreated one of the museum's crochet doilies. You can find both patterns on the Patterns page.
As a knitter, my skills would be best described as 'experienced beginner'. By that I mean, I've made hats, mittens, scarves, but that was it. Learning to recreate a counterpane pattern has required a lot of research, a lot of trial and error and many, many visits to my knitting teacher for advice.
Along the way, I have discovered that needlework is a journey not a destination. Stitch Revival Studio is a way for me to share what I am learning. Thank you so much for stopping by!